About Charming Goldens
Ed, Karen, Precious, Bella and Levi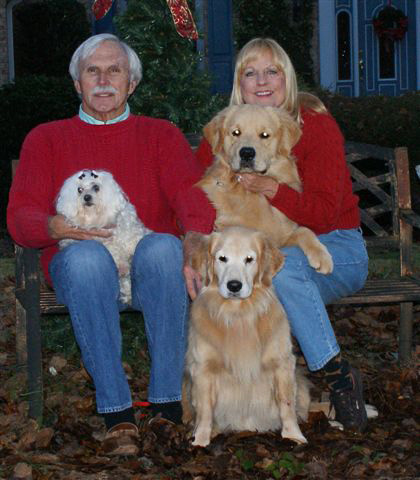 A Charming Goldens True Fairy Tale
Once Upon a Time . . . I married the man of my dreams. He is good-looking, intelligent, a charming southern gentleman. He is my Prince Charming. With Ed's support I have had the joy of raising, rescuing, placing, and showing Goldens.
We live on a 170 acre farm perfect for all the dogs we share our home with, and absolute heaven for the dogs to run and play. The name of our farm is Meadowlark Farm. We have owned Golden Retrievers for twenty five years.
It all started with one mixed golden someone left in our pen. Her name was Baby Doll. She was perfect. We loved the breed so much we bought a registered Golden. We named him Beau. Through a dropped off rescue, we had found the breed we would always love. Within 2 years we had Buckwheat. During this time we lost our toy poodle at the age of 18. I was devastated. In search of a new dog, I bought a Maltese, we named her Precious. I enrolled her in a puppy class and a many new worlds opened as a result I met Ann, a certified pet behaviorist and joined a pet therapy group called Happy Tails. We visited several nursing homes with our dogs. In this group were several members of Golden Retriever Rescue and through this association I soon became an active member.
Levi's first birthday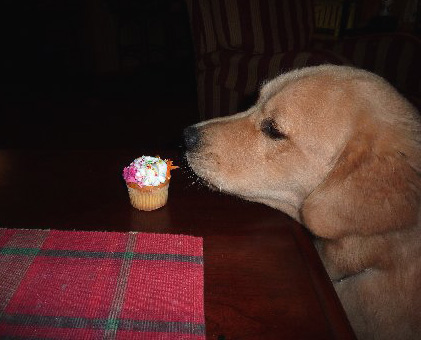 The first year we had 17 rescue dogs come through our home. As fate would have it one stood out- her name was Amber. At our home, Amber was a prima donna who lived her life in front of an air conditioner vent and was never outside unless she chose to be. She was in Heaven at Meadowlark Farm. She was attached to Ed's hip. She loved to run in the pastures and lie in the shade, watching Ed as he worked on the farm. She had my husband's heart from day one. So yes, she was adopted by us and this made her our 4th golden. Then tragedy happened and Beau was diagnosed with cancer. We lost him in 2 months time.
The 2nd year we fostered 14 dogs and raised 2 litters of puppies. All found great homes. During this time I was active with Happy Tails and Amber and Precious became registered therapy dogs with Therapy Dogs Inc. I soon became Therapy Dog Tester and Observer for Therapy Dog Inc. Precious earned her GCG.
Through all of this I was making lifelong friends and learning a lot about dogs.
The 3rd year of rescue included 12 dogs and one more litter of puppies.
Then into our lives came Logan, one of the most beautiful Golden Retrievers I had ever seen.
I picked him up from a vet. The owner had left him and did not come back. He had all of his papers and was from a show dog bloodline. I brought him home and I fell in love with him. It did not matter to me who came to see him to adopt him. I always had a reason they would not be a good home. They would not take care of his hair. They might leave him in a pen. They might??? Knowing I did not need to own another dog I still could not let him go! So you know how this ends. Logan became our 5th Golden.
Our niece and Chance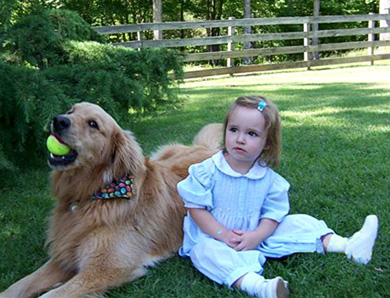 In 2005 Hurricane Katrina hit the Mississippi coast. We took in a rescue whose name was Chance. He had not had his heartworm preventative and soon we were doing heartworm treatment. His owners came to visit him but still did not have a fence or running water so they could not take him back with them. Seven months later, the decision was made to leave him with us forever, and they cried as they left - Chance became our 6th Golden. He formed a bond with Logan, who unfortunately was diagnosed with cancer and passed away leaving Chance always searching for his buddy. This constant and obvious sadness prompted another search for a new Golden.
Amber was still with us but could not run and play. I called a few friends I had made with all the dog groups and we found Bella. Bella fit in great and took over Amber's job of watching and working on the farm with Ed. Bella believes she has a job. She is happiest with Ed, and she stays within 10 feet of him. Her main job as she sees it is to accompany him while he works on fences and yards and when he moves she moves. She is always by his side, watching and waiting for him to throw something to her.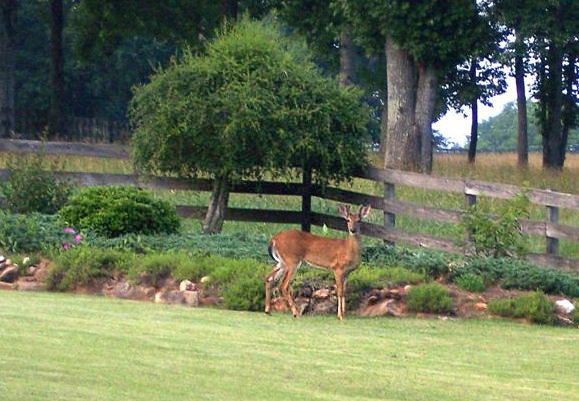 We lost Amber 2 years later. It was just Chance ,Precious and Bella now. We lost Chance suddenly and Bella was not a happy dog. She would not play with her ball. All she would do is lick her legs in depression. So again I found myself looking for another Golden.
I was referred to Carole, who allowed me to purchase the pick male from her latest litter. This special dog I named Levi. She told me that she would like for me to show him in AKC conformation, and if he was a success she would like to use him at stud in the future. I was not certain I wanted to show but kept my word to her even though this was a whole new world to me. She mentored me and I put him in a few shows and he did well. I was hooked. I took Levi far further than Carole ever dreamed; Levi became the first Champion she had bred.
We have a new addition this year- her name is Ziva. We have high hopes for her whether it is in conformation or field.
Through all of this I have learned a lot and will continue learning every day. I have made some wonderful lifelong friends through my dogs. I am forever grateful for all the support that I have received from the dog show world. There is so much to learn. I will always be nice to newcomers and try to educate them, as they are our future.
The person I thank the most is my husband for always being there supporting me. He has provided financially the means to pay for vet bills on dogs that have come through our home via rescue, surgeries, medications, treatments. He's allowed me to follow my dreams and has never begrudged what so clearly has my heart. He is and always will be my Prince Charming and there was no other name to choose for our kennel.